I am so excited! I just received my new cookie cookbook, The King Arthur Flour Cookie Companion: The Essential Cookie Cookbook from Amazon.com.  I had high hopes to make something super festive for the Fourth of July, but I'm afraid things didn't turn out like I had hoped.  (My hubby and I ended up picking 15.5 lbs of green beans this morning, so I've been pretty busy with those!)
Since I still wanted to make something and it HAD to be red, white, and blue, I decided to try a simple sugar cookie recipe and use red, white, and blue sanding sugar!  Here are the steps I took to make the cookies.  Enjoy!
The Essential Chewy Sugar Cookie (From Th King Arthur Flour Cookie Companion)
3/4 cup unsalted butter
3/4 cup granulated sugar
1/2 cup brown sugar
1/4 cup light corn syrup
2 tsp. vanilla extract
1/4 teaspoon nutmeg or lemon oil (I left this out)
1 1/2 tsp baking powder
1/2 tsp baking soda
1/2 tsp salt
1 large egg
2 1/2 cups unbleached all-purpose flour
1/4 cup coarse or granulated sugar for coating
Preheat your oven to 375˚.  Line several cookie sheets with parchment paper.
Beat together the butter, sugars, corn syrup, vanilla, nutmeg, baking powder and soda, and salt.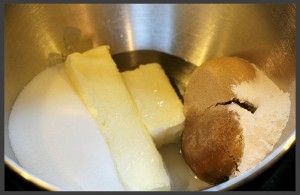 Mix until everything is well combined.  Add the egg and mix until light and fluffy.   Gradually add the flour until just combined.  You will need to scrape the edges of your mixing bowl for this.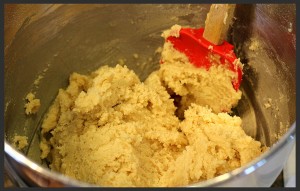 Use a small cookie scoop to portion out the dough equally.  Roll each ball in sugar and place about 2 inches apart on parchment lined cookie sheet.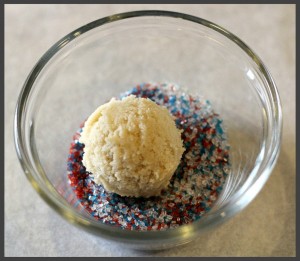 Bake at 375˚ until just lightly brown around the edges, around 10-12 minutes.  Let cool for 5 minutes on the pan, then remove to a cooling rack until  completely cool.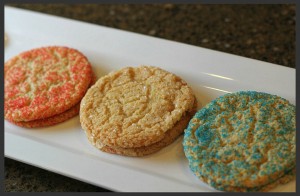 I hope you have a safe and fun 4th of July holiday!
You Might Also Like: